Fairing Quality
Sep 23, 20
Raw Material
Over the years, we have insisted on using ABS plastics and refused to use recycled materials to ensure product quality.
Injection Mold
We use injection mold, which is made with OEM bodywork. holes are pre-drilled, you don't need to do modification. Installation accuracy almost reaches 100%
Paint Quality
Primer :

Make base painting is a very necessary process, it can be used to improve the adhesion of topcoat, increase the fullness of topcoat, provide alkali resistance and anti-corrosion function. Besides, it can ensure the uniform absorption of topcoat and make the best effect of the paint system.

Painting Job :

Angle and running speed of the spray gun is very important to painting quality. The spray gun should be kept running at right angle and parallel to the fairing. The moving speed of the spray gun is usually adjusted between 30 and 60 cm/s, and it's required to be constant. If the spray gun is inclined or with variable speed, it will not get uniform paint film, and easily have stripes and spots issue; When spray gun runs too slow (less than 30 cm/s), it will easily produce flow hanging. When the uniformity of coating thickness is required to be high, cross spraying method should be adopted to ensure the quality of paint.

Clear Coat :

It is one of the most important processes to a beautiful paint job, it plays a protective role. Clear coat is applied to the surface of the fairing and cured by ultraviolet radiation. The curing time mainly depends on the wavelength of UV light. In our factory, from molding to paint, the entire manufacturing process is overseen by our own skilled professionals and operators. Especially in controlling the accuracy of UV wavelength and time, NT FAIRING are so skilled that there has never been any cracking problem.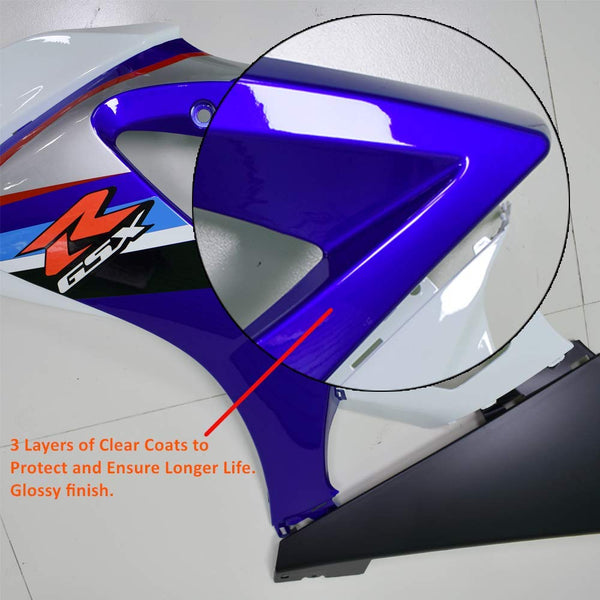 This is an indispensable process and plays an important role in controlling quality and eliminating mistakes. Before delivery, we will arrange three quality inspections. Every single part will be inspected to ensure it's perfect. The inspection includes inspecting color, decal, model no. and so on.
Packaging
Each fairing part will be well packed by polyfoam, besides we only use the high quality 7 layers of corrugated cartons to make sure you get them in great condition.